The Luthier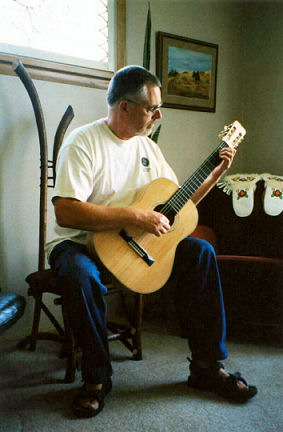 Fred Casey has been a familiar face at Folk Festivals from Prince Albert's Guitar Festival to the Hand Made Village at the Winnipeg Folk Festival. Musicians from around the world have made their way into his tent to try his finely-crafted guitars, dulcimers, harps and other stringed instruments, while others have made emergency calls bringing Fred their wounded instruments for skillful on-site surgery.

From 1970 - 1974, Fred studied classical guitar at the renowned Conservatorio Nacional de Musica in Mexico City, and since then has been both a performer and teacher of guitar. His repertoire ranges from classical to Celtic to Spanish. Fred has published articles in several luthiers' journals, and also composes music for the guitar and voice including "Ferris Fair", a Celtic suite and "Borealis - for Kate", which has been published in an international arts magazine.

In 1978 Fred built his first dulcimer, and the rest - as they say - is history. He traveled to San Diego in 1980 and studied under master luthier Bozo Podunavac. Since then, C.F.Casey Guitars has created custom stringed instruments for such noted performers as Daniel Koulak, Ken Whitely, Dan Frechette, Alana Levandosky, Hal Brolund, Rick Avery, Kate Ferris, Judy Cook, Len Udow, and Paul Hann. Recognition has come from other areas as well. From over 90 submissions, the Manitoba Crafts Council unanimously chose to exhibit one of Fred's fine guitars - "The Turtle Woman" - in their 1997 Juried Craft Show. His craftsmanship has been featured nationally on CBC-TV's Coleman & Company and local CBC-FM's Arts Encounters.

In April of 1997, with the help of a grant awarded by the Manitoba Arts Council, Fred once again traveled to California; this time to Healdsburg to take a seven-day intensive course on archtop guitar construction under the tutelage of master luthier Tom Ribbecke. This venture took C.F.Casey Guitars in an exciting new direction: that of hand-carved archtop guitars.

In 2005, Fred was asked by the Guild of American Luthiers (GAL) to write a review of a book about a traditional Puerto Rican instrument, the tiple (tee-play). As a result, Fred was invited to be a guest speaker at a conference held by the "Movimiento del Tiple Puertorriqueño" (the Puerto Rican Tiple Movement) in Mayagües, Puerto Rico in February 2006. Fred discussed the building of the Small American Guitar, and one of his travel guitars was added to the Tiple Museum's collection of small stringed instruments.

In the fall of 2008, Fred was chosen by the Winnipeg Folk Festival to build a very special guitar. It was to be awarded to British folk/guitar legend, Richard Thompson, as part of their Artistic Achievement Award. Fred rose to the challenge, and on December 6, 2008, Fred handed the guitar to Richard at the Winnipeg Folk Festival's Winter Wassail.

Lately, the 'ukulele has resurfaced as the "must-have" instrument, and Fred has been kept busy full-time, creating beautiful sopranos, concerts, tenors and taropatches (8-stringed 'ukuleles).

C.F.Casey Guitars is based just outside Winnipeg Beach - about 55 minutes north of Winnipeg, Manitoba. There, under the watchful eyes of Fergus and Shadow, the two black cats who act as quality control, Fred creates the custom stringed instruments for which he is becoming so well known. It's a beautiful drive . . . why not drop out and visit the shop? Fred and his wife, performer Kate Ferris, would be glad to show you around.




Top of Page
Design by
Elphick,
for Website Design